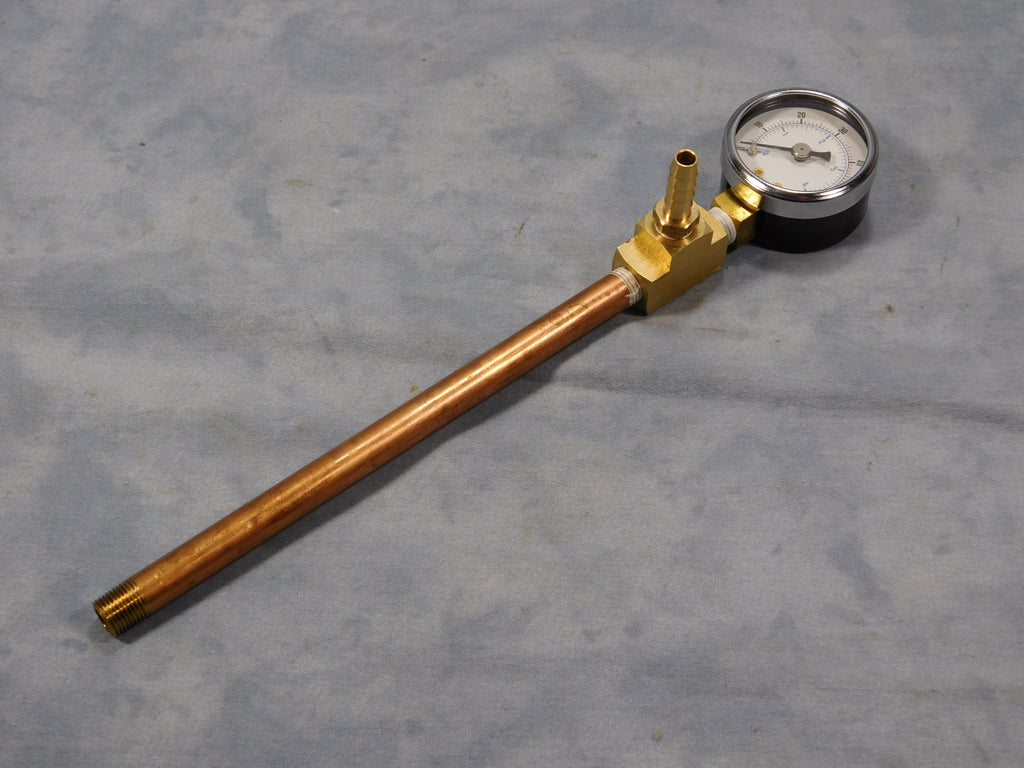 PRESSURE BLEEDER HEAD ASSEMBLY w/GAUGE - PB2
$38.50
OUR PRESSURE BLEEDER ASSEMBLY w/ OPTIONAL GAUGE IS MADE OF HIGH QUALITY BRASS FITTINGS AND COMES ASSEMBLED WITH TEFLON TAPE IN THE JOINTS AS PICTURED.  THE INCLUDED GAUGE FEATURE WILL LET YOU KNOW YOUR CURRENT PRESSURE SO YOU DONT CLIMB UNDER THE TRUCK AND NOT REALIZE YOUR TOO LOW ON PRESSURE TO FINISH THE BLEEDER YOU ARE WORKING ON.
WHEN I BLEED OUT ONE OF MY TRUCKS, I USUALLY LIKE TO KEEP BETWEEN 20 AND 30 PSI ON THE PUMP TANK. 
THIS IS ASSEMBLY THREADS IN TO THE MASTER CYLINDER CAP ONCE THE VENT LINE BRASS FITTING IS REMOVED. 
ONCE IN PLACE, THE HOSE FROM A COMMON GARDEN VARIETY PUMP SPRAYER IS ATTACHED AND THE SPRAYER FILLED WITH BRAKE FLUID (OR ALCOHOL IF YOU ARE DOING A FLUSH.)
THE PUMP SPRAYER IS THEN PUMPED UP TO PRESSURE AND YOU CAN THEN START TO OPEN YOUR BRAKE BLEEDERS FOR EASY, EFFORTLESS, AND COMPLETE BRAKE BLEEDING. ONCE YOU ARE FINSIHED BLEEDING YOUR BRAKES, THE ASSEMBLY IS REMOVED FROM THE MASTER CYLINDER AND THE VENT FITTINGS RE INSTALLED. 
ONCE YOU HAVE BLED YOUR BRAKES USING THIS STYLE OF SETUP, YOU WONT EVER WANT TO DO IT ANY OTHER WAY. 
THIS ASSEMBLY COMES WITH A FITTING FOR USE WITH 1/4" I.D. HOSE, WHICH SEEMS TO BE FAIRLY COMMON ON MOST OFF THE SHELF PUMP SPRAYERS. 
YOU WILL HAVE TO SUPPLY YOUR OWN SPRAYER, THESE CAN BE FOUND IN THE LAWN AND GARDEN SECTION OF ANY HOME IMPROVEMENT STORE OR ONLINE. 
THIS LENGTH IS FOR M35A2 TRUCKS, BUT MAY ALSO WORK FOR OLDER 5 TON MODELS. WE HAVE NOT HOWEVER BEEN ABLE TO CONFIRM YET IF THE OLDER 5 TON MASTER CYLINDERS ARE THE SAME DISTANCE FROM THE FLOOR. 
IF YOU HAVE ANY QUESTIONS ON THIS FEEL FREE TO CONTACT US AND WE WILL BE GLAD TO HELP. 
BIGMIKESMOTORPOOL@YAHOO.COM OR 609-894-4123