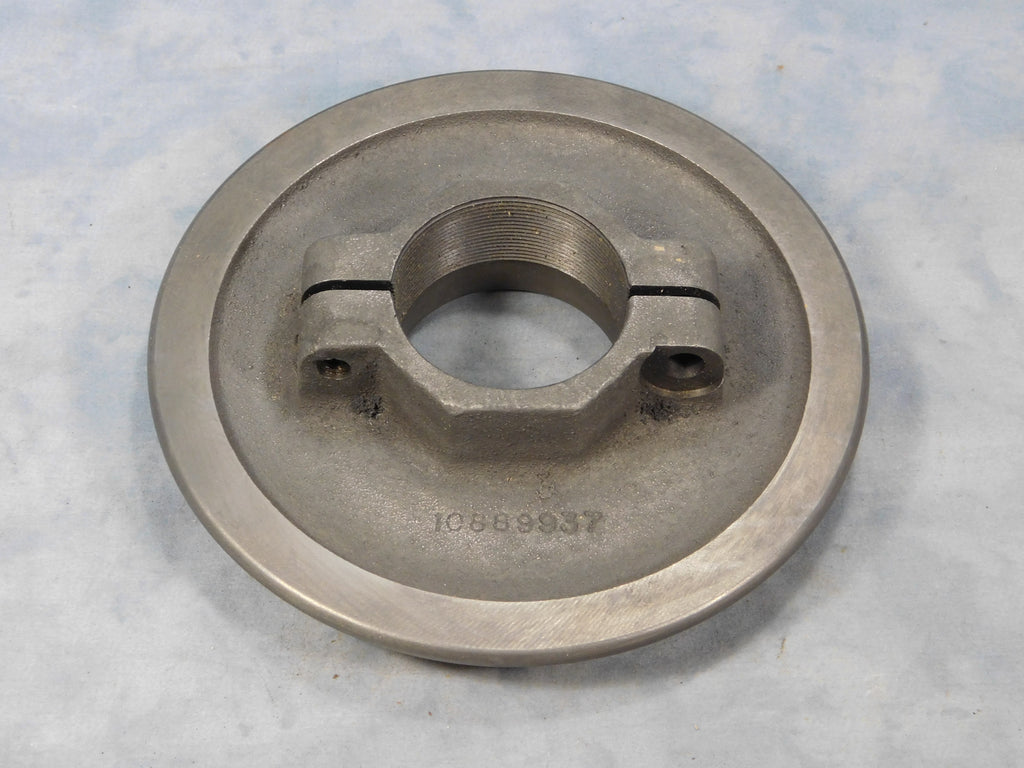 AIR COMPRESSOR PULLEY FRONT FLANGE - 10889937
$169.95
AIR COMPRESSOR PULLEY FRONT FLANGE FOR M35A2. 
THIS IS THE FRONT FLANGE ONLY, NOT THE ENTIRE PULLEY. 
PART # 10889937 NSN 2530-00-860-0572
**BIG MIKE'S PRO TIP**
IF YOUR PULLEY WONT SPIN TO MAKE YOUR ADJUSTMENT, TRY WARMING IT UP WITH A TORCH AND USING PENETRATING OIL. DO NOT TRY TO SPREAD THE GAP IN THE PINCH BOLT BOSSES. IF ALL ELSE FAILS AND YOU CANT GET IT TO SPIN AND FEEL THE NEED TO REPLACE IT, THIS FRONT HALF WILL USUALLY BREAK OFF VERY EASILY, LEAVING THE REAR PULLEY HALF UN TOUCHED AND READY TO ACCEPT A NEW FRONT HALF. 
TO BREAK THE PULLEY OFF, REMOVE THE 2 PINCH BOLTS AND START DRIVING WEDGES OR CHISELS INTO THE GAPS. THE CAST IRON IS SO BRITTLE, THE PULLEY WILL USUALLY BREAK INTO TWO PIECES AND COME OFF CLEAN. IT WONT TAKE MUCH FORCE TO CAUSE THIS TO BREAK, YOU WILL LIKELY BE VERY SURPRISED AT HOW LITTLE FORCE WILL BE NEEDED.  
BE SURE TO WEAT SAFETY GOGGLES INCASE ANY CAST IRON GOES FLYING, AND BE CAREFUL ABOUT THE RADIATOR BEING SO CLOSE, DONT LET ANY PARTS OF THIS GO FLYING OR FALLING INTO THE RADIATOR OR YOU LIKELY WILL BE REPLACING THAT AS WELL.