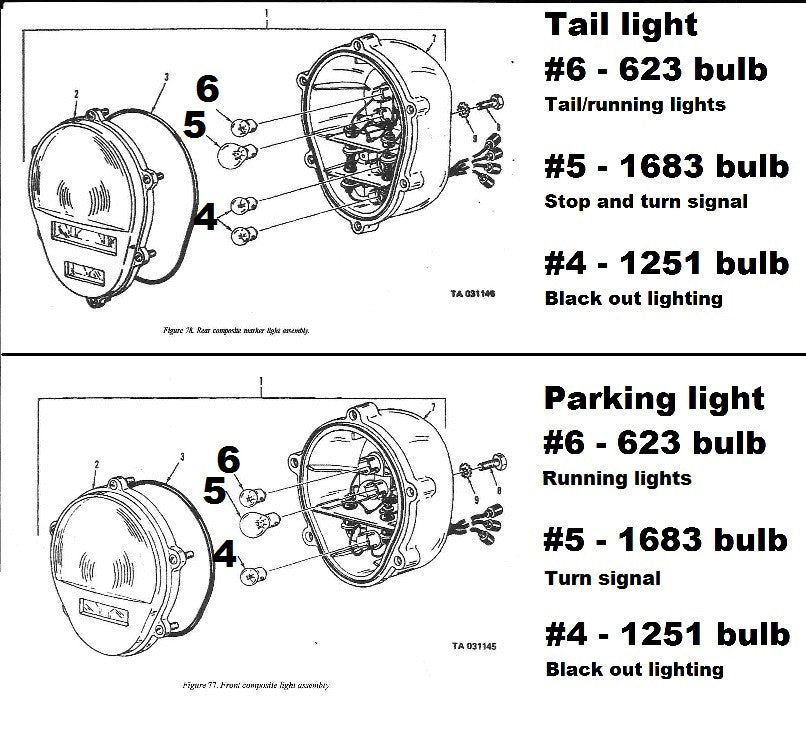 BULB POSITION REFERENCE GUIDE
$0.00
WHILE THIS ISNT A PRODUCT YOU CAN BUY, HERE IS A DIAGRAM YOU CAN LOOK AT TO REFERENCE BULB POSITION AND FUNCTION IN YOUR TAIL LIGHT AND PARKING LIGHT ASSEMBLIES.
THE BULB POSITIONS NUMBERED IN THE PICTURE ARE AS PER THE MILITARY TECHNICAL MANUAL. .
SOMETIMES PREVIOUS OWNERS OR MECHANICS WILL PUT THE WRONG BULBS IN THE WRONG POSITIONS, HERE IS A DEFINITIVE ANSWER TO THOSE ISSUES.
RUNNING YOUR CURSOR OVER THE PIC WILL AUTOMATICALLY ZOOM IN ON IT.