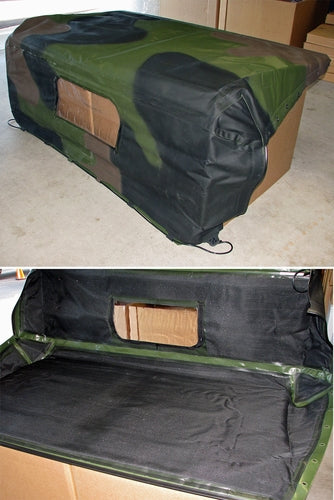 CAB TOP FOR M939 SERIES 5 TON TRUCKS - 12450238-1
$374.95
NEW THREE COLOR CAMO VINYL INSULATED SOFT TOP FOR M939 SERIES 5 TON TRUCKS. THESE TRUCKS HAVE A WIDER CAB THAN OTHER 5 TONS, SO THIS TOP WILL ONLY FIT THE 939 SERIES. 
HEAVY DUTY CONSTRUCTION AND A ZIPPER STYLE REAR WINDOW.
PLEASE NOTE, THE 2.5 TON CAB TOP IS PICTURED, YOU WILL RECEIVE A TOP THAT FITS YOUR TRUCK, AND IS 3 COLOR CAMO SIMILAR TO WHAT IS PICTURED. I STILL HAVE TO GET SOME PICTURES OF THE ACTUAL TOP FOR THE 939 SERIES TRUCKS. . 
PART # 12450238-1 NSN 2540-01-417-6379, 2540010841233
*THIS IS A LARGE ITEM COMING IN A BOX APPROXIMATELY 5' LONG. THIS WILL USUALLY SHIP FEDEX AND MAY SHIP SEPARATE FROM THE REST OF YOUR ORDER. *