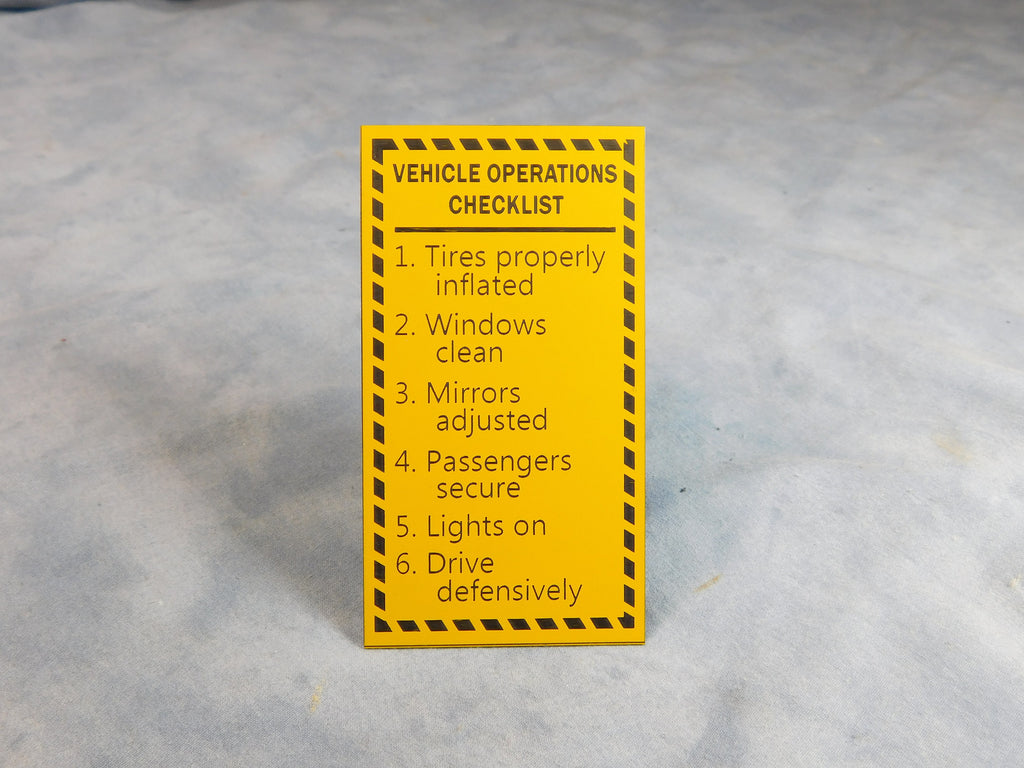 VEHICLE OPERATIONS CHECKLIST DATA PLATE
$12.95
VEHICLE OPERATIONS CHECKLIST DATA PLATE USED IN MANY M-SERIES VEHICLES. THIS WAS USUALLY A DECAL, BUT I HAVE HAD IT MADE HERE AS AN ALUMINUM PLATE FOR BETTER DURABILITY. SINCE THESE WERE DECALS USUALLY AND NOT SCREWED ON PLATES, USING A FEW DABS OF SILICONE TO ATTACH IT TO YOUR DOOR OR DASH BOARD WILL DO THE TRICK. 
THESE PLATES ARE VERY GOOD QUALITY REPRODUCTIONS THAT ARE MADE IN THE USA BY A SMALL BUSINESS OWNER. THEY MAY HAVE VERY SLIGHT DIFFERENCES FROM THE ORIGINALS BUT ARE OVERALL VERY VERY NICE.
THE PLATES ARE CURRENTLY COMING WITHOUT ANY HOLES PUNCHED IN THEM. UNTIL I FIND AN ACCURATE WAY TO GET HOLES IN THESE, YOU WILL HAVE TO DO THIS YOURSELF. I SUGGEST USING A HOLLOW PUNCH AND A HAMMER ON A HARD SMOOTH SURFACE (PREFERABLY STEEL) AS OPPOSED TO A DRILL.
USING MASKING TAPE TO TAPE YOUR OLD PLATE OVER YOUR NEW PLATE IS A GOOD WAY TO GET THE HOLES PUNCHED IN THE EXACT SPOT THEY NEED TO BE.
IF YOU NEED HELP FIGURING THIS OUT OR NEED A SPECIAL PLATE, PLEASE EMAIL ME AT BIGMIKESMOTORPOOL@YAHOO.COM AND I WILL HELP YOU OUT ANYWAY I CAN.