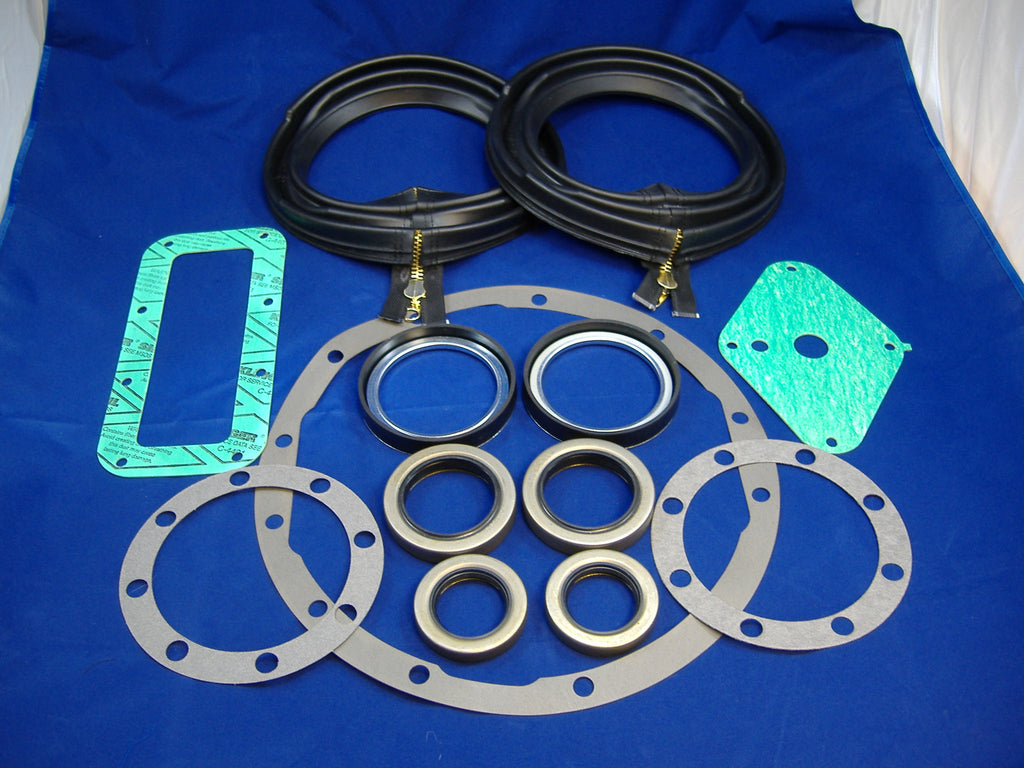 COMPLETE FRONT AXLE GASKET AND SEAL KIT w/ GOLD ZIPPER BOOTS FOR M35A2
$193.95
ONE COMPLETE FRONT AXLE SEAL, BOOT, AND GASKET KIT FOR AN M35A1 OR M35A2 SERIES 2.5 TON TRUCK. IT WILL FIT ANY VARIATION OF THE 2.5 TON TRUCK. NOT FOR A3 MODELS.
THIS KIT REPLACES YOUR BOOTS AND EVERY SEAL IN YOUR FRONT AXLE /DIFFERENTIAL AND ALL GASKETS.
THIS KIT INCLUDES 2 PREMIUM GOLD ZIPPER BOOTS, 2 INNER WHEEL SEALS, 2 AXLE SHAFT SEALS, 2 PINION SEALS, 2 HUB GASKETS, 1 CENTER CHUNK BASE GASKET, 1 SIDE DIFFERENTIAL GASKET, AND 1 TOP DIFFERENTIAL GASKET.
WE ALSO OFFER MANY SEAL KITS FOR ROCKWELL MILITARY AXLES, INCLUDING KITS FOR 6 WHEELS, 4 WHEELS, 2 WHEELS, FRONT WHEELS, REAR WHEELS, AND ENTIRE AXLES SEAL KITS WITH BOOTS AND GASKETS. PRETTY MUCH ANY STYLE KIT YOU NEED, WE HAVE ASSEMBLED IN OUR STORE FOR YOU. LOOK IN OUR AXLE PARTS, OR BEARINGS, SEALS, BOOTS, AND SEAL KITS SECTIONS FOR OUR OTHER AVAILABLE SEAL KITS.